Rubber Roofing, The Perfect Low or No-Slope Roofing Solution
Rubber roofing systems are designed for use on no-slope and low-slope structures. They are most commonly used on commercial roofs and the flats of residential roofs. Rubber roofing systems are known for their strong resistance to water, UV rays, weather and heat. Because of their elasticity and flexibility, rubber roofs are less likely to crack than some other roofing products. A proper installed rubber roof with water shedding and drainage features can last 20 – 40 years.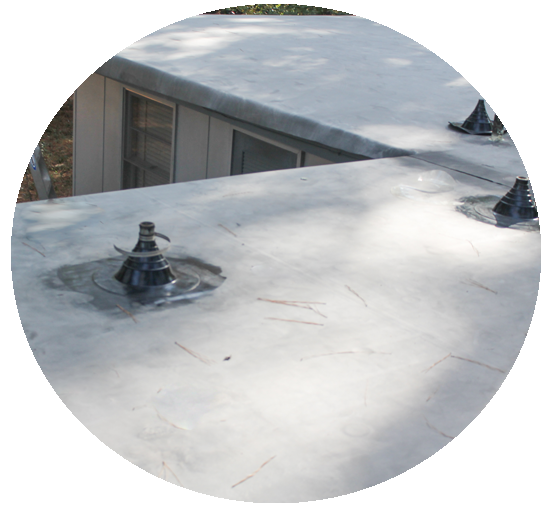 Typically, they are low maintenance, however, standing water on the roof or glue that dries out can cause membrane seams to fail requiring reseaming.
Product Benefits:
Durability and flexibility
Superior resistance to extreme heat and fire
High resistance to weather and UV rays
Impact resistance
Energy-Efficient
Environmentally friendly
"EPDM" (Ethylene Propylene Diene Monomer) Rubber Roof

EPDM roofing systems have been a solid roofing choice for low and no-slope commercial & residential roofs for more than 40 years. They are one of the most sustainable and environmentally responsible roofing systems used in the industry. EPDM roofs are comprised of a high quality synthetic rubber derived from oil and natural gas. They are lightweight, easy to install and have a lifespan of 20-40yrs. They are traditionally black, however with recent formula changes, certain variations are now also available in eco-friendly white, meeting LEED certification requirements. Product warranties vary based on thickness. Colors available: black and white.
"TPO" (Thermoplastic Polyolefin) Rubber Roof

TPO is a cost effective and durable, low and no-slope roofing system for commercial & residential roofs . White by nature, but also available in light grey and black, TPO roofs are growing in popularity as they provide many of the same benefits of EPDM but at a lower cost. Comprised of polypropylene and ethylene-propylene rubber, TPO roofs have been designed to have the advantages of a rubber roof combined with hot-air weldable seams for enhanced durability. The solar reflective properties of light colored TPO roofs contribute to energy savings. 100% recyclable, TPO roofs are an environmentally friendly roofing product. Product warranties vary based on thickness. warranties vary based on thickness. Colors available: white, light grey, and black.
For more information about rubber roofing systems visit our manufacturer's websites: 
To learn more about EPDM and TPO rubber roofing and pricing we invite you to come visit our showroom located at 301 Fields Drive, Aberdeen, NC 28315. Contact us to schedule an appointment.
Contact Us