---
Dependable Roof Replacement Services
---
Roof Replacement Made Quick & Easy by The Experts at Elite Roofing LLC
It is something that most all home and business owners will have to deal with at some point-- a declining roof. But when? How much longer can the existing roof last? A roof is an important investment in your biggest asset - your home or business. It literally protects you, your family and employees from the elements. For many, roof replacement is an overwhelming process filled with lots of questions such as "how much will it cost", "what roofing product is the best for me", and "how long will the installation take". At Elite Roofing LLC we make every effort to make the roof replacement process as simple and as quick as possible. We strive to ensure our customers are comfortable with their decision on choosing Elite Roofing LLC as their roofing contractor.
The Roof Replacement Process: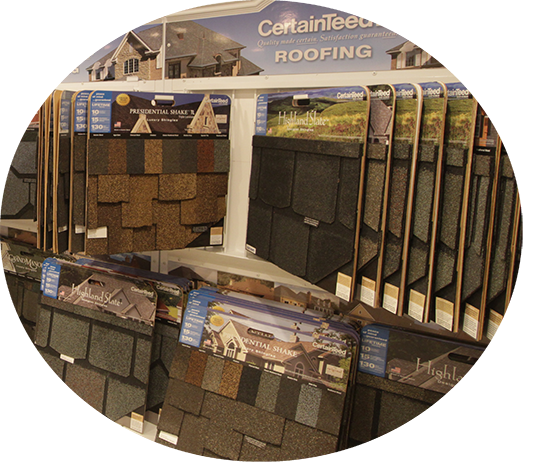 Roof Assessment / Inspection: With a quick roof inspection by one of our team members we can help you assess your roof to determine whether or not your home is ready for a replacement.
Roofing Product Selection: Once it has been confirmed a new roof is needed, we schedule time with you in our showroom to discuss roofing product options, colors and cost.
Final Pricing & Scheduling: Final price estimates are prepared based on the needs of your home and selected roofing products, and then work with you to schedule your roof replacement. In most cases the owner is not required to be on site for our teams to complete the work.
Roof Removal:  All elements of the old roof must be removed to ensure proper installation of the new roof. We make every effort to cover and protect your property and surrounding landscaping from debris. Once the old roof is completely removed, we thoroughly inspect all underlying deck boards and make any necessary repairs.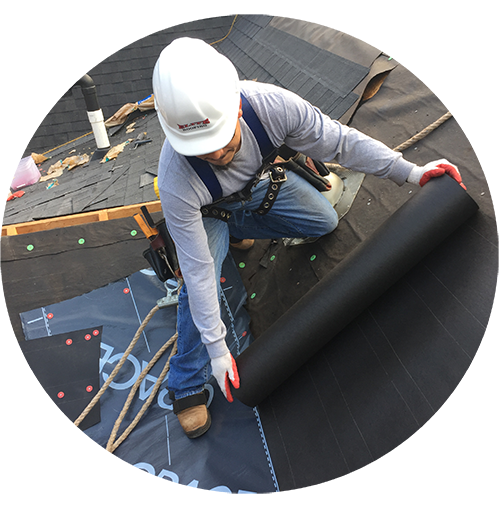 Installation of Sub-Roofing: Sub-roofing materials must be installed first to create a solid, impenetrable base for the new roof. Sub-roofing underlayments commonly include drip edges, ice and water shield material, and felt paper, but may vary based on the needs of roofing product being installed.
Installation of the New Roofing Product: Once all underlayments have been set, we install the actual roofing material. We install all products according to manufacturer recommendations and work from the bottom up. Ridge vents, ridge caps, wall flashing and chimney flashing are installed as they are needed.
Site Clean Up, Final Inspection & Warranty: Upon completion the new roof is meticulously inspected to ensure all materials have been correctly installed. We also inspect the surrounding area to make sure no materials or debris are left behind. At this time we also issue the warranty associated with the specific product and craftsmanship.
We complete most all roof replacement jobs on the same day, minimizing your home's exposure to the elements. We do not leave a job site to go to another until our work is completed and your home is fully protected by the new roof. Customer satisfaction is important to us. We recognize the value and importance your roof plays in protecting your home and family, and reflect that understanding and care in our work.
Signs it is Time for a Roof Replacement
There are many signs that indicate it is time for a roof replacement. Timely replacement of a declining roof is important to help minimize potential damage to the underlying deck boards. Regularly inspecting your roof can help you analyze the health and age of your roof. Common signs it is time to replace your roof include:
Age: While many roofing products on the market have a lifespan of 30-50 years, there are other factors that can accelerate the aging process. If your roof is 20-25 years old it is highly recommended that you have a professional inspect your roof to assess its structural integrity and determine when the roof will require replacement.
Neighbors Replacing Their Roofs: Chances are if your neighbors are replacing their roofs, it is time to think about replacing yours. Often homes in the same neighborhood were built within the same time period using similar products and are put under the same environmental stresses. If your neighbors are replacing their roofs, it is highly recommended to schedule a professional inspection. 
Bald or Spotty Looking Shingles: As an asphalt roof ages the protective granules wash off, leaving your shingles with a bald or spotty appearance. This is a normal part of the aging process and a good indicator that it is time for a replacement.
Curling or Cupping of Shingles Over More Than 30% of Your Roof: Shingles can curl up for several reasons such as improper installation or installation over an existing roof, but most of the time curling shingles indicate the roof is aging. If more than 30% of your roof is showing signs of pronounced curling at the edges, it is time to replace your roof. Curling is a natural part of the roof aging process but when it becomes severe if it is not addressed it can lead to leaks and more serious problems.
Dark Stains: Airborne algae and bacteria can cause dark streaks to appear on your roof. While it does not affect the structural integrity, it can be unsightly and is a sign that the roof is older in age. Dark stains can be treated with a 50:50 blend of bleach and water but should be done by a professional as to not damage the roof.
If you see one or more of these signs on your roof, it is time to replace your roof. Contact the roofing experts at Elite Roofing LLC and let us help you get the job done.